Fintech Newsletter for 3/27/21
Fintech news for week ending 3/27/21
Below are news related to  fintech industry this week.
General News
U.S jobless claims reach 52 week low.
Weekly U.S jobless claims, workers filing for unemployment benefits, reported for the week ending March 20th was 684,000. Jobless claims number from last week has been the lowest from the time lockdowns began in March of last year. Jobless claim numbers are a proxy for layoffs. Such low numbers are a good sign of recovery and a trend showing the economy heading positively. However, it may be too early to celebrate since the pre-lockdown numbers averaged around 200,000, and also during the 2008 financial crisis, the peak number was  665,000, much below current levels. We will continue to monitor these numbers periodically and report any change in the trend.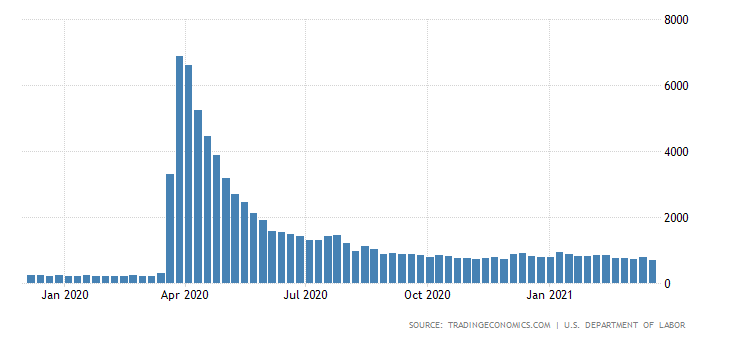 Cargo ship gets stuck in Suez Canal.
Earlier this week, on March 23rd morning, a vast container ship got stuck in the Suez Canal, blocking hundreds of vessels from passing through the Canal.  12% of global trade passes through the Suez Canal. Lyod list estimates the blockage is costing $9.6 billion a day. Global supply chains are already under dismay with the coronavirus pandemic, and the Suez Canal  issue will further stress the system.
Tencent reported a robust quarter amid regulatory challenges.
Tencent reported a 28% increase in revenue,482.06 billion yuan, compared with the previous year.Net profit for the year was 159.85 billion yuan. Tencent's revenue breakdown based on different revenue streams for the quarter is as follows.VAS(value-added services), services such as online games and social networks), accounted for 50% of the revenue. Online advertising accounted for 18%, and the fintech and business category accounted for 29% of revenue.
In FinTech services, payment user engage and commercial payment volume increased healthily. We will continue to work closely with the regulators and industry partners to deliver complaint FinTech products, while prioritizing risk management over scale."-Tencent CEO, Pony Ma (2020 Q4 earnings call)
Microsoft in talks to Acquire Discord for $10Billion
According to the Bloomberg report early this week, Microsoft is allegedly in discussions to acquire Discord, a popular chatting app for video game players, for $10Billion. Some of Microsoft's advantages with the deal will include (a) An excellent addition to its Xbox gaming platform. (b) Access to massive user-base, reportedly Discord has 140 million monthly active users. (c) Access to Discords social media platform (d) will be interesting to watch if Microsoft adds some cryptocurrency support to the platform and expands into the Fintech space.
Big Tech CEOs testify in congress over misinformation.
Facebook CEO Mark Zuckerberg, Twitter CEO Jack Dorsey, and Google CEO Sundar Pichai all testified in congress on Thursday. Much of the conversation was around Section 230, legislation that protects tech companies from getting sued for user-posted content on their platform.
"No provider or user of an interactive computer service shall be treated as the publisher or speaker of any information provided by another information content provider." - Section 230
Facebook proposed its open to changes to section 230 and solution involved platforms must have "adequate process" to combat misinformation and the process must be determined by a neutral third party.
"...Instead of being granted immunity, platforms should be required to demonstrate that they have systems in place for identifying unlawful content and removing it. Platforms should not be held liable if a particular piece of content evades its detection—that would be impractical for platforms with billions of posts per day—but they should be required to have adequate systems in place to address unlawful content. ..."- Facebook  opening statements ,March 2021 congress hearing
However, Google had another view point.
..We are, however, concerned that many recent proposals to change Section 230—including calls to repeal it altogether—would not serve that objective well. In fact, they would have unintended consequences—harming both free expression and the ability of platforms to take responsible action to protect users in the face of constantly evolving challenges.  We might better achieve our shared objectives by focusing on ensuring transparent, fair, and effective processes for addressing harmful content and behavior ..." - Google opening statements ,March 2021 congress hearing
Twitter did not have any explicit comments on section 230 in their prepared opening  remarks.However twitter was focused on emphasizing increased transparency in its moderation algorithms in order to earn users trust in the platform. They mentioned of ongoing projects such as "Birdwatch"  and "BlueSky" that will help mitigate concerns related to misinformation.
---
Venture and IPO
Chainalysis ,New York based blockchain analysis company ,raised $100m in Series D funding.
Lukka,New York based enterprise crypto portfolio management software raised $53m in Series D funding.
Polly,San Francisco based provider of mortgage industry SaaS raised $15m in Series A funding.
Pilot,San Francisco based accounting company raised $100m in Series D funding.
PPRO,London based localized payments provider raised $90m in new funding.
Rupifi ,India based buy now pay later platform for micro SMEs raised $4.
Pie Insurance ,Washington, D.C. based provider of workers' comp insurance for small businesses raised $118m in Series C funding.
Lolli,New York based maker of bitcoin rewards company that gives users free bitcoin when they shop raised $5m in pre-Series A funding.
"I'm excited to announce my investment in Lolli, a company on a mission to make Bitcoin more accessible. Earning and owning Bitcoin is a step towards financial inclusivity for all people." -Tennis pro Serena Williams
Blockchain.com ,London based digital assets platform raised $300m in Series C funding
Lev,New York based commercial real estate financing transaction platform raised $10m in Seed funding.
Feedzai,San Mateo based financial risk management platform raised $200m in Series D funding.
Afriex,Oakland based payments and remittance platform raised $1.2m in Seed funding .
Counterpart,California based management liability insurance startup raised $10m in new funding.
---
If you have any comments or have any topic requests for the blog, please leave your feedback here.